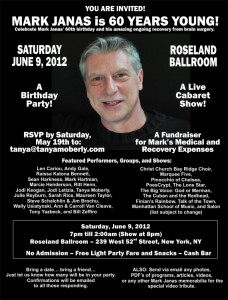 MARK JANAS is 60 YEARS YOUNG!
Celebrate MARK JANAS' 60th BIRTHDAY and his amazing ongoing recovery from brain surgery with a Birthday Party! A Live Cabaret Show! A Fundraiser for Mark's medical and recovery expenses!
Saturday, June 9, 2012
7pm till 2:00am (Show at 8pm)
Bohemian Benevolent & Literary Association
321 E. 73rd St btw 1st & 2nd
New York, NY
No Admission – Free Light Party Fare and Snacks – Cash Bar
Featured Performers, Groups, and Shows:
Len Cariou, Andy Gale, Raissa Katona Bennett, Sean Harkness, Mark Hartman, Marcie Henderson, Ritt Henn, Jodi Keogan, Jodi Letizia, Tanya Moberly, Julie Reyburn, Sarah Rice, Maureen Taylor, Steve Schalchlin & Jim Brochu, Wally Usiatynski, Ann & Carroll Van Cleave, Tony Yazbeck, Bill Zeffiro, Christ Church Bay Ridge Choir, ***Marquee Five***, Pinochio of Chelsea, PoesCrypt, The Lone Star, The Big Voice – God or Merman, The Cuban and the Redhead, Finian's Rainbow, Talk of the Town, Manhattan School of Music, and Salon (artists subject to change)
RSVP to: tanya@tanyamoberly.com – LIMITED CAPACITY!
Bring a date… bring a friend… Just let us know how many will be in your party. Confirmations will be emailed to all those responding.
ABOUT MARK'S SITUATION AND HOW YOU CAN HELP:
On March 26, 2012, Mark Janas underwent emergency brain surgery to remove a cavernous malformation from his brain stem. His strong and speedy recovery is a testament to his will to live and positive attitude. He does however still have issues with partial eye and facial paralysis that have resulted in double vision and some speech difficulties which we hope, with time, will improve. But there will be weeks or even months of recovery and therapy ahead limiting his work load and thus, his income.
If you can give even one dollar for every year Mark has been alive, it will make a world of difference – but any contribution will be a greatly appreciated.
Many thanks to Fr. Jeffrey Hamblin, MD, and Christ Church Bay Ridge (where Mark is currently Minister of Music) for sponsoring this event. This means all contributions are tax deductible. All you need do is make the check payable to Christ Church Arts Fund, write "Mark Janas" on the memo line, and mail it to:
Mark Janas
332 Bleecker Street, #K101
New York, NY 10014
….or just bring it to the party.
Finally, please spread the good news about Mark's party. Forward this email to anyone you know who would like to be invited to this exciting event and/or post it on your Facebook page.
Don' t forget to RSVP… ASAP!
Your help and good wishes will be instrumental in Mark's recovery and are much appreciated.
Gratefully,
The Mark Janas 60th Birthday Party Committee:
David Gillam, Tanya Moberly, Fr. Jeffrey Hamblin, MD